How Much Does an Epoxy Garage Floor Cost?
There isn't a universal, set price for epoxy garage floors. In short though, you can think about the cost of your epoxy garage floor in terms of getting the quality that you pay for. There are cars that cost $500 and there are cars that cost $200,000, and there are cars in the middle of that range. The same applies to epoxy garage floors and coatings.
There isn't a one-size-fits-all solution that will work for every homeowner and every situation. This is because every home, customer, and need is different and unique! And therefore the cost of your chosen coating will vary a lot. Some of these factors will include the types of products you'll need, and the preparation (time and expense) needed to get your existing garage floor ready for its new coating. 
Amazing Garage Floors' Goal
One of our goals is to provide our clients with as much unbiased knowledge and information as we can. We know what a big decision it is to install it, and we want you to be prepared so you know you'll be getting the most value for your dollar. 
It's so important that you get it and that's right for you and your needs. Just knowing where to start looking for this information is daunting, so we do the work and research for you. 
Who We Cater To and How That Affects Cost
Anyone can decide to install this. There are devoted do-it-yourselfers and there are people who want to pay for the entire project to be done for them. This is going to directly affect the cost and its installation. 
DIY or Pay the Professionals?
While a DIY project might initially sound cheaper, there are all kinds of surprise costs and add-ons. At the end of the day, a DIY project might end up being super expensive and time-consuming. So although a fully paid professional job might look more expensive initially, there won't be lots of surprise extras and add-ons. Another benefit is that the work is done much faster.
For the purpose of this article, we're going to assume you're in the latter category, and the prices will be reflected accordingly.  
So Where Do You Start?
There are literally thousands of different formulations, and this can understandably be overwhelming when you're trying to find the best one. In addition to there being thousands of formulations, there are also lots of successful product manufacturers and installers. So again, how do you narrow all of this down? 
Our team has done this research for you so you don't have to worry about it. We've compiled all the information that we think will be helpful to you in making your decision. 
Some Pricing Averages and Rules of Thumb
The national average cost to install it in your garage ranges from $1,870 – $2,700. (thumbtack.com)
How much you pay will depend on the size of your flooring, the condition of the existing concrete, and any add-ons you choose. (thumbtack.com)
A rule of thumb I often hear in the industry is that you should expect to pay, on average, about $1,000 per garage stall for an floor coating.  Of course there are regional differences that will affect the installation price of your epoxy garage floor. However, I've found that a range of $800 to $1,200 per parking spot is a good general rule of thumb when you're trying to estimate the approximate price for an installed epoxy garage floor.
Some Educational Topics We'll Cover
Here are some topics we will touch on in this article in an effort to educate:
TYPES OF EPOXY GARAGE FLOOR COATINGS AND AVERAGE COSTS
REGIONAL EPOXY COATING NEED AND COSTS DIFFERENCES
CONSIDERATIONS FOR YOUR PROPER FLOOR COATING
CONCRETE SURFACE PREPARATION WITH CRACK REPAIR OR DAMAGE REPAIR
ABOUT THE AUTHOR-AMAZING GARAGE FLOORS 
Pre-Installation Considerations
First things first. As with any professional installation, we'll first come out and evaluate the scope of your project. The amount of work required, and therefore the cost, is going to be directly related to the age, condition, and size of your existing garage. 
For example, installing it in a brand new home with no damage is going to be way less labor intensive than an installation in a 50-year-old home with a concrete garage floor that's suffered decades of cracks and other damage.   
In our professional evaluation, we'll thoroughly check out your garage and take notes of some very specific things. Does the floor need an existing coating removed? If the floor is already epoxy, we'll determine if it was some kind of standard, low quality epoxy purchased from a big box store. Will it come off easily? 
If the floor is concrete, what kind of prep work will we need to do? Will this be the first time the concrete will have been coated with anything? Or if your floor has an existing coating, it will need to be removed in order to restore the floor to a condition that can be coated. Even if the concrete doesn't have a coating, it'll need diamond grinding. This removes any acrylic sealer or other concrete sealer applied to improve the original concrete floor. 
Also, will you be adding in any items like stem walls or steps? These will need to be coated as well.
These are all important considerations and steps and will factor into the overall cost of installing it in your garage. 
See the Difference!
Before and After Coating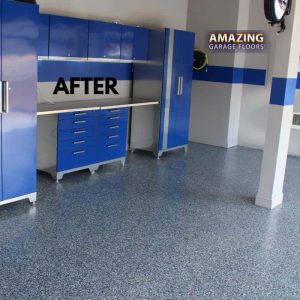 Prep Work
Bare Concrete Prep Methods
Even bare concrete needs prep work and should always have mechanical preparation done so it's ready to accept a solid epoxy or concrete paint.  Diamond grinding is now the leading industry standard in preparation for applying, and should be included in any cost.  Shot blasting is also a viable way of preparing concrete for a coating.  Every manufacturer will include suitable methods of preparation for the application of their coating system.
Garage Floor Coating Options
DIY Coatings
When it comes to a budget, coatings tend to cost less than other coverings, especially if you utilize a DIY floor coating. These protective coating kits can help protect against the corrosive chemicals, moisture, stains, drips, spills, and other forms of damaging substances.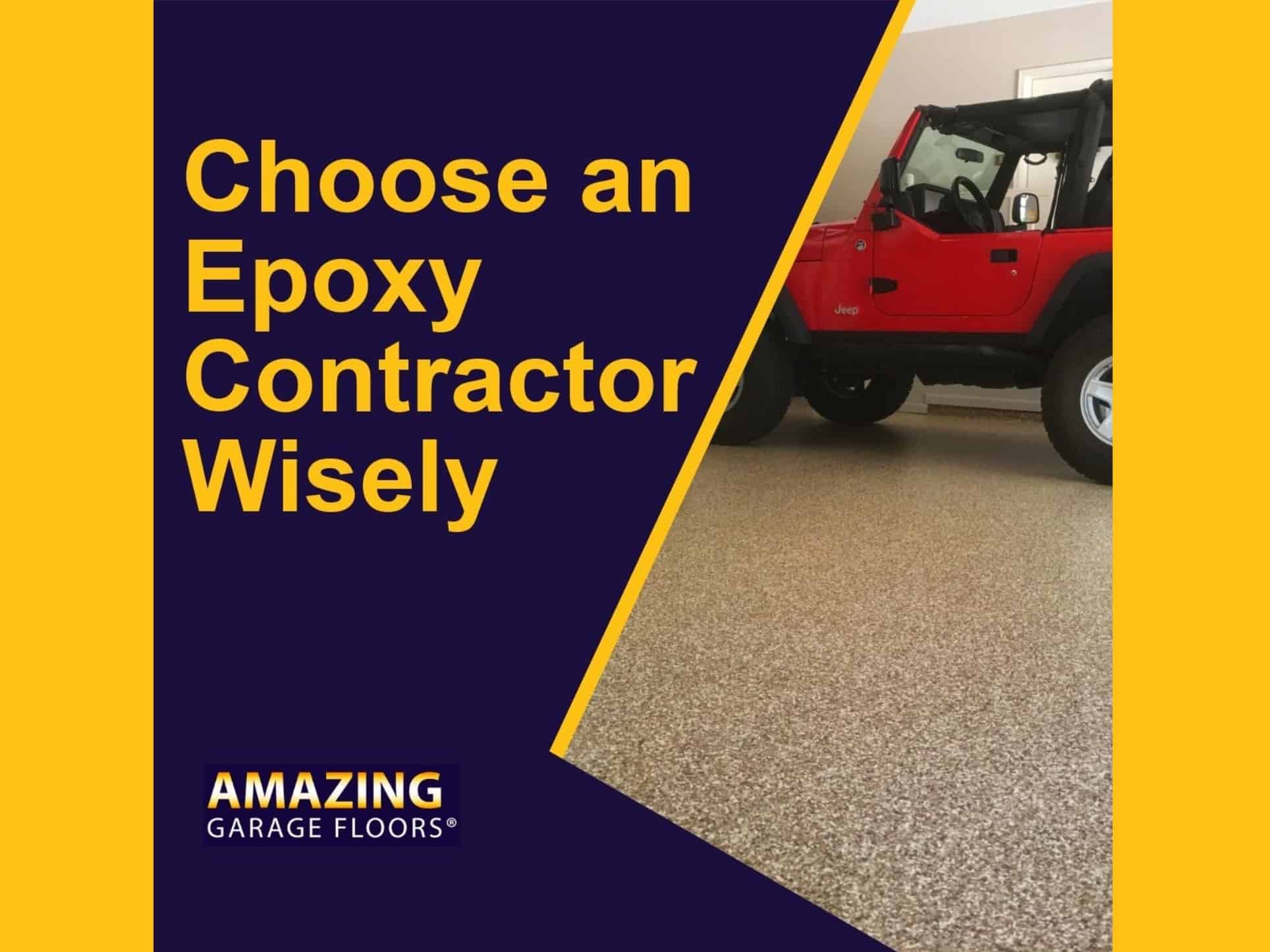 However, if there is constant moisture rising through the concrete floor, coatings might not be the best choice. It is important to test your concrete slab to determine if the coating makes the most sense for your space. Also, if you're looking for an easy, quick install, coatings won't be for you. Roll out mats tend to be the easiest install when it comes to garage floor coverings. Floor coating for garages takes a few hours of extensive floor prep to ensure the coating sticks effectively.
Epoxy Garage Floor Coatings
What Leading Sources say about epoxy for garage floors…
Garage floor epoxy flooring is a tough, long-lasting coating that you paint onto the concrete. It resists grease, oil and many other substances that would ruin ordinary paint. It's paints clean easily and can be found in a variety of colors (if you look hard enough), so you can keep your paints sparkling clean and attractive for years. (familyhandyman.com)
Challenges
However, this project comes with some challenging realities. Not all concrete floors will hold coatings. Preparing concrete for a coating can be labor intensive and tedious. 
Floor Assessment and Steps
With that in mind, the following story will help you assess your concrete's condition. It will show you how to clean and etch it, and will then demonstrate how to apply an coating that will handle car traffic, chemicals, oils, salt and scraping better than any other paint or stain. (familyhandyman.com)
As with any other paint job, success with using paints lies in the prep work. Plan to spend the first day removing oil spots, cleaning/degreasing the floor, etching it with a mild acid, and scrubbing, vacuuming and rinsing (a lot!). 
Day two is for filling cracks and applying the first coat of epoxy flooring, which is followed by a second coat on day three. This job doesn't require many special tools. But to do the best job (and save your back), we recommend that you rent a walk-behind power floor scrubber (Photo 2) with a stiff brush attachment. Brushes work better than scrubbing pads on concrete, but buy two pads if a brush isn't available. Also, rent a wet vacuum if you don't own or have access to one. (familyhandyman.com)
Family Handyman
What To Avoid For Garage Floor Finishes
Polished Concrete
Polished concrete is NOT a recommended finish.  Polished floors are not truly sealed, which can result in a stained with fluids and other winter chemicals.  We recommend avoiding polished concrete as a finish for standard residential installations.
Metallic Epoxy
We also feel that a metallic epoxy floor is a bad choice for a garage floor, as they lack texture. Metallic epoxy is also very difficult to keep clean and ends up looking really dingy with daily use.
Solid Color Epoxy Floor
Similarly to a metallic floor, a solid color floor is also less desirable from a cleanliness standpoint. However, if budge is a big concern, a solid color will significantly lower your epoxy floor coating costs.
The Epoxy Garage Floor You Do Want: A Full Broadcast Epoxy Floor
The most recommended epoxy floor for a typical residential garage is a full broadcast. This is known as an epoxy floor "system" because it's comprised of multiple layers. These are not only more durable, but they also tend to be more aesthetically pleasing, due in part to the multi-colored paint chips that are mixed with the epoxy. 
These floors typically have a higher material cost than a single coating. This is due to the longer installation time, as well as more product being used. However, this type ends up paying for itself because of how long-lasting and hard-wearing it is. Material prices can also be managed by the installers or company because they will work directly with the manufacturer.
Advantages of a Full Broadcast Epoxy Garage Floor
A full broadcast has several advantages that make it appealing for a homeowner. The main one being a greatly reduced maintenance cost while still enhancing the garage portion of their home.
The best installation will include a primer coat, as well as a color coat for the base coat for decorative chips.  These coats will be covered by a top coat, or clear coat, that is typically NOT epoxy.  Instead, the common practice now use a polyaspartic coating, as well as polyrurea and polyurethanes.
These types of top coats offer many advantages over epoxy and are going to be more chemical resistant, abrasion resistant, and are also very UV stable, so they won't yellow or amber like most epoxy.  
These types are much more durable than floor paint, and will have a higher overall cost, but will last for decades to come.
This is a graphic that we use for demonstration of our floor system to show the layers of the full broadcast system that we install in our network.
The Amazing Garage Floors Difference
We have installed our signature AMAZING Garage Floor since 2007.  Our amazing garage floors are installed in just one day, and we offer a 15 year warranty on our floors! We offer training, equipment, and AMAZING products to professionals looking to get started in the business or wanting to improve the results of their existing installations.
Interested in getting involved in the business of your own?  Learn more about our dealer network.  Our next blog is in the work in how the business model outperforms two day training classes or franchise business models.  STAY TUNED!
Here is a video explain the Amazing Garage Floors system.