Garages have changed over time. They used to be just a spot to store things like carts, cars, tractors, lawn mowers, and anything else you can think of. Now, though, garages aren't just oversized, catch-all storage areas. They run the gamut from serving as a protected spot to park your cars and other vehicles, all the way to being used as extra living spaces.
Since garages have become such integral parts of our lives, it's easy to see why people put so much time and energy into personalizing and even decorating these spaces. When you design, or redesign, you'll be thinking about things like what is the best garage flooring you can put in and what color you'll paint the walls.
At Amazing Garage Floors, our passion is garage floors. We want to help you transform your old, dreary, cave-like garage into a beautiful and functional room that has an amazing, durable floor. We'll be with you through the whole design, redesign, and installation process, and will provide you with any and all information you'll need.
WHAT IS THE BEST FLOORING FOR A GARAGE?
There is no one-size-fits-all answer to that question. We'll tell our customers that the perfect garage floor for them is going to depend on a number of key factors. What works for one customer might not work for another. But our knowledgeable and experienced team members and installers are here to guide you through the selection, redo, and installation process.
GARAGE FLOORS ARE INDIVIDUAL!
Redoing or replacing floors isn't just for the kitchen, dining space, or bedroom. Your garage floor is as crucial and essential as the floors throughout the rest of your home or business.
Choosing the perfect material for your house or business can be challenging because not only does it need to be functional and durable, it also needs to be complimentary to your lifestyle or workplace.
You'll need to think about what the garage is used for because this actually dictates the type of flooring material you choose. You'll want to consider what type of flooring is best suited to the vehicles that will be parked in the garage. And last and maybe most important, you'll probably want a material that fits your budget and won't break the bank at the initial installation or require multiple costly repairs.
STARTING THE GARAGE FLOOR RESEARCH PROCESS
There are so many different flooring options when it comes to garage floors that it can seem totally overwhelming when you first start looking. But we're here to help. We work hard to make our customers happy, and we believe that starts at the research phase, so we came up with some tips, tricks, recommendations, and general thoughts.
One of the first things we tell our customers is that when you're planning on putting in a new garage floor the most important factor to consider is the floor's long-term usage and function. Don't cater to trends here! Unlike with the furniture and decorations in your house or office, it is a much more permanent fixture. You probably aren't going to want to (or be able to!) replace it every month.
SOME FLOORING MATERIALS TO AVOID
For the best, most durable, it's important to avoid floor coverings like linoleum, luxury vinyl plank, solid wood flooring, hardwood floors, stone tile, natural stone, porcelain tile, or ceramic tile. While these materials can certainly be attractive and do well in other areas of your home or business, these floors aren't waterproof.
So why is that a big deal? In moisture prone areas, you'll need a floor that's not only able to withstand lots of weight and traffic, but that's also waterproof. They're also difficult garage floors to clean and care for because they have seams or grout lines.
SOME CONSIDERATIONS IN YOUR GARAGE FLOORING CHOICES
Seamless flooring is ideal for garages. This is because smooth, seamless surfaces are much easier to clean than rough, textured, or seamed surfaces. This is especially important in a room because of all of the dirt and general grime that gets tracked in and spilled.
There are some other things to keep in mind when you're picking the ideal material. These are things like: color options; the square footage of your project; the general condition of the concrete slab (is there damage or is it in good shape); possible moisture issues; tire marks; chemical spills and oil stains.
Because every customer is unique, and no project is the same, we advise our customers to really weigh all of these considerations and not leave anything out. We want to make sure all of our customers' project needs and expectations are met. .
SIX FLOORING MATERIAL OPTIONS FOR YOUR GARAGE FLOORS
Like we said already, there's an almost unlimited number of options when it comes to picking a flooring material for your garage floor. So to help you out, we got a list together of our six favorite material options.
CONCRETE SEALERS
If you're a DIY kind of person, a concrete sealer might be the perfect option for you. These sealers are very affordable, so if you're working on a tight budget, this kind of sealer is probably what you'll go with. Renovations are expensive so it's always great when you can save some money!
Concrete sealers are lightweight and really easy to apply, making them perfect for people who are doing their redo solo. Concrete sealers typically last around five years before they need to be fixed or redone.
The problem with clear concrete sealers is that they don't cover up any existing blemishes in your garage floor. If you want your garage to look flawless, you've got to address any cracks and stains before applying the sealer. Overall though, a clear concrete sealer is a great option for anyone on a tight budget.
Siliconate or Acrylic-Resin Sealers
The most commonly used sealers are made of either siliconate or acrylic-resin. When applied properly over a concrete, they'll effectively protect the concrete from damage, stains, and general wear.
Solvent-Based Sealers
Another type of concrete sealer is a solvent-based sealer. Solvent-based sealers seal the surface of the concrete and stop its pores from absorbing liquids, chemicals, oil, and road salt. This prolongs the life of the concrete. Another benefit of solvent-based concrete sealers is that they minimize the cracks that you commonly see as a result of the freeze/thaw pattern you get in so many climates. Solvent-based sealers also give your concrete a nice shine, or wet-finish look. This type of sealer is longer lasting than a siliconate or acrylic-resin sealer.
CONCRETE STAIN
Generally speaking, a concrete stain is a sealer with pigment. Concrete stains are different than concrete paint because a stain will still show the actual surface of the concrete instead of completely covering and recoloring it.
A word of caution about this: if you want your floor to look spotless with just the stain, be sure to get the concrete in good condition before applying the stain!
Concrete stains are really cool. Concrete paint stays on top of the concrete and doesn't absorb into it. But a concrete stain is actually partially absorbed into the concrete and creates a distinctive finished look that paint can't replicate. Bonus: you know that no one else out there will have the same as you!
The science behind the pigment resulting from the concrete stain is this: the acid in the concrete stain has a chemical reaction with the minerals in the concrete. This results in a unique color pigment that actually protects it from fading, peeling off, or chipping away.
If they're applied right, concrete stains tend to last longer than ordinary paint that's been applied over the top of a concrete floor. Like anything that puts color on a surface, concrete stains will eventually fade over time. A concrete sealer applied over the stained concrete will help the stain last longer and hold up better to wear and tear.
INTERLOCKING TILES
Interlocking tiles are great options for a flooring material. Interlocking tiles are really simple and easy to install, and are relatively inexpensive. This makes them a great flooring option for the DIYers out there.
We understand our customers' need to create a personalized space, and it plays a big part in this. We love that interlocking tiles come in such a wide variety of styles, colors, and patterns. This allows you to design your floor any way you want. especially if you're looking for something with a little more shock absorption or noise control.
These tiles are usually made from rubber, heavy duty vinyl, or plastic. They have edges that snap together. This is a great feature because it eliminates the need for glued installations. Glue weakens over time because it's susceptible to cracking and deterioration.
The tiles are great as far as safety is concerned because they come with a built in anti-skid surface to prevent sudden slipping. And because they're made from forgiving materials, interlocking tiles are great at minimizing leg fatigue. This provides for more user comfort, especially for people who spend hours a day in their garage.
Interlocking tiles are connected to each other, but aren't attached or glued directly to the garage floor. This means they're flexible and more resistant to damage brought about by seismic distortion. They're also easy to replace if they do get damaged.
Interlocking tiles are really strong. They're four times better than standard concrete at carrying and distributing weight. This strength means that interlocking tiles have a longer lifespan than regular concrete.
Another benefit of interlocking tiles is that they can help hide any existing flaws or cracks in the concrete garage floor. You do want to make sure that you're applying the tiles to a level floor. Otherwise they can buckle and allow dirt to get underneath them, creating an uneven surface.
EPOXY GARAGE FLOOR
If you want it long-lasting, high-performing, top quality, and versatile, you'll love an epoxy coated. You'll also have fun choosing from the huge variety of colors and patterns that are available in epoxy coatings. An epoxy coating isn't going to be the cheapest option out there, but if your budget allows for it, this is the flooring option we recommend here.
Epoxy garage floor coatings are extremely resilient. They hold up well even with really heavy loads and constant vehicle traffic, and provide a great protective layer over the garage's original concrete floor. Epoxy coatings also minimize the concrete's pores which helps prevent stains from oil, gasoline, and other chemicals. The epoxy effectively seals the concrete, making it impenetrable by water and other liquids. This sealing power also prevents the concrete garage floor from being eaten away by abrasive industrial chemicals.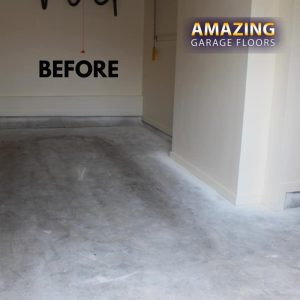 A high quality epoxy garage coating can last a decade or more. You'll want to make sure you go with a professionally installed epoxy coating though, because of the complex steps involved. Also, a lot of the store bought DIY epoxy coatings are easily damaged by hot tires.
Epoxy coatings are sometimes referred to as a type of paint because of the way it's applied with paintbrushes and rollers. Epoxy isn't paint, though, so don't be fooled. Paint sets as the solvent evaporates, but the epoxy coating hardens as a result of the reaction between a resin and a catalyst.
A hardener is also added to the epoxy coating before it's applied to the concrete floor. This process is time sensitive! The epoxy and the hardener have to be combined and then immediately applied because the solution is only usable for two hours.
Unlike when you apply concrete sealers and stains, which require zero prep, the correct installation of an epoxy coating does require some prep work. You (or the installer) will need to thoroughly clean the original concrete floor. Any cracks need to be patched, and sometimes the floor will need to be etched. This ensures the epoxy has a surface it can effectively bind to.
We recommend a multi-layered epoxy coating system. These systems come in a huge variety of colors and patterns, and are easily recognizable because they come layered with multi-colored flakes, giving them a distinctive, attractive appearance. They're also slip resistant, which makes them safer than single-layered epoxy floor systems.
Additionally, these multi-layered epoxy floor systems come with a UV stable polyaspartic, polyurea, or urethane clear topcoat which further increases the floor's lifespan and durability. Polyaspartic, polyurea, and urethane topcoats are more expensive options, but we firmly believe they're worth the investment because they prevent so many future problems with your garage floor. It's important to add here that only professional installers should apply these UV stable clear coats.
A quality epoxy installation is really the best solution if your budget allows it. If you make the decision to treat your concrete garage floor to an epoxy coating, or are wondering how much does an epoxy garage floor cost? one of our Amazing Garage Floors professional installers will come out and talk with you about all of your options, as well as the cost and the benefits you'll experience.
GARAGE CARPETS
Carpet isn't usually the first thing you think of when you imagine the ideal covering because garages come along with a lot of difficult to clean dirt, chemicals, and smoke. Regular, residential type carpet wouldn't hold up to this kind of wear, and it would get filthy really fast.
But the carpet for garages and multi-purpose rooms is a whole different thing. It actually comes in carpet tiles that are specifically designed to resist chemicals, oils, and car fluids so you don't have to worry about staining leaks and damage.
Garage carpet tiles come in a peel-and-stick form for easy application. This makes it a great medium for easy DIY installation and any repairs or reinstallation. The carpet tiles also come in lots of different colors so you can customize and design your carpet.
Garage carpets don't need deep cleaning and scrubbing either. Liquids on the surface can easily be cleaned by just wiping the surface. Regular maintenance and harder-to-clean spots is easily done with a good power washing session.
ROLL-OUT FLOORS
A fan favorite material among designers and car enthusiasts is a roll-out floor. These coverings are often made of vinyl or rubber. Installation is a breeze and it's relatively low cost. These coverings are also resistant to wear and tear, as well as to oils and other liquids. This makes them easy to clean, which we think is a big plus.
Unlike carpet tiles which are time consuming to apply because how they come in peel-and-stick sheets, roll-out mats are so quick. All you do is unroll them onto and you're done!
Every covering material comes with a downside. The ease of roll-out mats is that you've only got one piece to work with; the bad part of roll-out mats is you've only got one piece to work with. This can make your design more difficult, as well as when the mat gets damaged, it can be a hassle to cut out the damaged part and replace it with a new mat. We still think they're worth it!
Similar to interlocking tiles, roll-out mats can be installed on cracked or stained surfaces since they don't need to be glued or poured on. This significantly reduces your installation cost and prep time because you're not having to take the time to get the existing concrete ready, or pay a professional to do it. An added bonus of roll-out floors is that they cover all the flaws. Obviously this is a big plus and end goal for home improvement.
Some of the roll-out floors are textured for a better grip, and others mimic the texture of gym mats. Both of these features really enhance the safety, as well as giving you a more comfortable and forgiving surface to stand on.
GUARANTEEING SUCCESS FOR YOUR BEST GARAGE FLOOR
When you're upgrading, your success isn't just dependent on the materials you use. What really makes the difference is how efficiently you utilize those materials.
Our team of expert designers and installers here is committed to our customers' satisfaction. We know you want your new garage floor to add color and style, but we also want to remind you to keep in mind the overall function and comfort of the space.
For a free consultation, contact us today!