Seal it Now or Replace it Later!
Concrete Sealing is essential to the protection and preservation of your concrete driveway.  Kansas City's winters can devastate your concrete in just a few short years!
Don't be shocked to find out there is no good way to repair concrete and that the only option is replacement.  Replacement can easily approach and even exceed $10,000!
Don't find out the hard way that you should have sealed your concrete driveway.
Contact us for Concrete Sealing Kansas City!
Concrete Sealing Kansas City
Concrete Driveways, Sidewalks, Porches, and Patios, when well maintained, can add a tremendous amount of curb appeal and value. The problem is that these areas tend to be neglected and this neglect leads to deterioration. Our concrete sealers prevent this damage. If you are a homeowner with a concrete driveway or concrete patio, here is what you need to know:
Water is Your Concrete Driveway's Enemy
Harsh winter weather and the salt chemical mixtures lead to pitting, scaling, and spalling. Water penetrates and fills the pores of unsealed concrete. This water then freezes and expands, ultimately damaging and weakening the concrete. Using our driveway sealer helps prevent this.  Concrete Sealing Kansas City area driveways is important to protect concrete from damaging winter weather and chemicals. SealXP is guaranteed for 25 years.
Would you leave $10,000 lying unprotected in front of your home?

Unless you've sealed your concrete-You likley have $12-15,000, or more in unprotected concrete in front of and around your home!
CHOOSE CONCRETE SEALING KANSAS CITY
WITH THE CONCRETE DRIVEWAY SEALING EXPERTS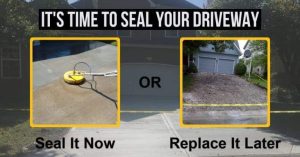 Seal Now or Pay Later
The price for not maintaining your concrete driveway is even worse with concrete replacement costs in the $13-$17 per square foot and up. Most people don't realize the replacement cost of their driveway until it's too late! Get your driveway or patio sealed today to save money in the long-run.
SealXP Concrete Sealing Process
We clean and seal your driveway, sidewalk, or patio. All of our concrete sealing services are backed up with our 25 year guarantee.  We serve the entire Kansas City metro area to include: Overland Park, Lee's Summit, Leawood, Olathe, Shawnee, Lenexa, and others.
Advantages of our Concrete Sealing Services:
Permanently seals against water, chemical, and liquid-based penetration
Strengthens concrete up to 30%
Reduces random fracturing
Eliminates pitting, scaling, and seepage
Dynamic concrete coating re-activated by water
Proven penetration of over 14″ vertically
Our concrete sealers are environmentally safe
Download the SealXP Concrete Feature List
Products Used: Seal XP – Guaranteed For 25 Years!
SealXP for concrete is ideal for driveways and other concrete that is exposed to winter weather. Concrete is a porous material that soaks up water. When that water freezes it expands. Salt and other deicing materials cause the rate of expansion to double, along with other chemical-caused damage. Only SealXP creates a dynamic seal within the structure of the concrete and is re-activated by water! Only SealXP protects your concrete from water and chemical damage, using water! SealXP will never flush out of your concrete and creates protection without beading water so you don't have to worry about slipping or ice that never goes away. Beading water and slippery surfaces are the primary reason that commercial properties don't seal with concrete and opt to replace it instead. With SealXP, you can protect that commercial concrete without creating a dangerous hazard to your customers.
Visit Kansas City Concrete Driveway Sealing Full Site
MORE USEFUL PAGES ON OUR SITE:
COMPARE WITH OTHER SEALERS
Seal It Now or Replace It Later
SealXP Concrete Discussion and Demonstration Video
Kansas City Concrete Infomation
Amazing Garage Floors proudly performs our Concrete Sealing Services for the entire Kansas City Metro Area Including:
                           Overland Park, KS | Lenexa, KS | Shawnee, KS | Olathe, KS
Leawood, KS | Prairie Village, KS | Mission Hills, KS | Kansas City, MO | Excelsior Springs, MO
Gladstone, MO | Independence, MO | Lee's Summit, MO | Liberty, MO | Raymore, MO | Raytown, MO
It can really be worth it to epoxy garage floor when you consider concrete damage can be repaired and then covered saving from replacemnt costs
Why should you seal and protect concrete?
In Kansas City, the main reason to seal your concrete is to preserve it from damage from the salts and de-icers applied to local governments to roads. These ice melting agents get on your car as you drive around Kansas City, and get dropped on your driveway as you drive across it.
What does Concrete Sealing with SealXP cost?
Pricing is based partially off the size of the project. Most applications are in the $1.00 to $1.50/SF which is more easily justified when it's the only sealing you'll likely ever need, since we have a 25 year warranty. For a standard suburban driveway you projects typically are around $1000 to $1200.
How long has SealXP been around?
We have installed the product continually since 2006 in the Kansas City area, and the product has been manufactured in the USA, since 1985.
How long does an installation take to apply?
Application of the SealXP product to a driveway typically takes less than 2 hours to clean and apply a standard sized suburban driveway.
How long before you can return your driveway to use?
After the application of SealXP to your driveway, you can typically return to use of the driveway in 1-2 hours depending on weather conditions at the time of application.