Onfloor OF9S-L Single Disc Concrete Grinder
It is our goal to provide an objective review (both pros and cons) of the Onfloor Single Disc Concrete Grinder (OF9S-L) after approximately one month of use after taking delivery of the unit and using it on a number of projects for concrete preparation.  We did purchase the unit after a promising demonstration in December of 2019.  However, delivery didn't occur until early April, but I am assured that production is now much more readily available, after a few delays due to production of this new grinder, unlike the remainder of the Onfloor offerings.
A little history, we have used Onfloor in our epoxy garage floor installations since 2008, and have always found the Onfloor machines to work very well for their weight which is always important for the small jobs that we do.  Portability is essential when working with garage floor installations (and basements), as well as the ease of getting single phase 220 volt power from residential clients.  These machines have long proven that they are lightweight, dependable, and easy to repair, if/when needed.  They also are easily repairable in the field.  We also began distributing the Onfloor line of products in 2012 as we expanded our operations to include training and sales of our 1 day hybrid epoxy garage floor system.  We quickly became the largest Onfloor dealer in the country and continue to rep and sell their USA made products proudly!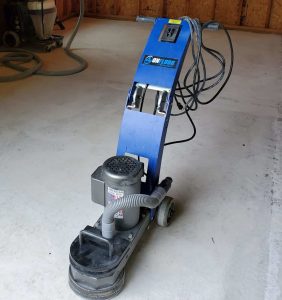 THE ONFLOOR SINGLE HEAD GRINDER (OF9S-L) DETAILS:
DESCRIPTION:  The Onfloor OF9S-L is a multi-surface single disc concrete floor grinder that is capable of edging to within 1/8″, leveling high spots, grinding cracks flat, removing coatings, mastic and more… The OF9S-L even doubles as a deck resurfacing machine when used with Onfloor's deck brush.The handle has several operating positions so you can maneuver into very tight spaces. 
SPECIFICATIONS: 
ModelOF9S-LMotor/Power 1.5 HP/ 110-120V 50/60HZFull Load Amperage16Tool Speed680 RPMCutting Width9″Vacuum Port1.5″/2″Minimum CFM150Weight120 LBSGrinding Pressure90 LBSOptional Weight10 LBS (6 max)Shipping DimensionL: 31″ x W:23″ x H: 31″Shipping Weight145 LBS
FEATURES/BENEFITS:
9" Cutting Path

More production in less time-

High-Speed Grinding

Grind edges, flatten high spots, grind cracks flat, remove coatings…

Adjustable Tilt

Increase/decrease pressure on the grinding head

Lightweight 

Faster operation and easy mobilization-

Up To 150 lbs. Grinding Pressure

Increases productivity with more grinding pressure-

Patented Flexible Tool Plates

Follows the contour of the floor for faster production and no gouging-

Self-Maintenance Platform

Replace belt and bearings in minutes not hours-

Wet/Dry Operation

Machine operates dry with dust collector or wet with water.
A short video of the OF9S-L in operaton on a slighly broomed and sealed concrete floor
As you can see the production is quite rapid on this concrete surface for prep. The Onfloor OF9S-L Single Disc Concrete Grinder shown here is using 30 grit diamonds and it's quickly removing to a CSP 2-3 level of preparation very easily.  It is important to note on this project that we are only using 110 volt power AND running an Ermator S26 vacuum on the same circuit!
Check out the edger capability of the Onfloor OF9S-L single disc grinder!
SEE THIS VIDEO
NOTE how close this edger gets to the 2×4 walls.  Repair product was not cured yet for grinding so please take that into account!
TAKE AWAYS AND DETAILS FROM THIS PROJECT:
We were able to run the OF9S-L AND and an Ermator S26 vacuum on the same 20A circuit without issue.  We prepared 305 SF of concrete in 42 minutes while I had to show my crew member where the circuit breakers were located in the home (FOR 220v POWER ON THE HOME for garage-this was the maintenance shed) as well as changing out several diamonds, since we were using nearly exhausted diamond plates at the end of their useful life.  This Onfloor OF9S-L prepared at a rate of nearly, if not over 500 SF/hour!!!!
With that being said it is NOT a planetary machine, so there could be some minimal fatigue due to the need to create a "wiping motion" in my option to eleminate grooves or cuts in the floor.  This is much better perfroming than any single cup wheel machine that I have ever seen.  It also weighs half or less than other grinders that typically cost more and are not American made.  Additionally, we were running 3-10 pound weights on the machine.  Which is all I purchased, but have found that it's a good weight to add so far.  I have removed them occasionally, thinking it would work better with less weight only to find myself putting them back on the grinder.  
Lightweight/Portability and easy to carry/load/roll (ONLY 120 lbs)
Works well on 110 volt power
Low priced
Works well for basements and bathrooms (other small areas)
Vacuum and OF9S-L on the same circuit is a big bonus if power is an issue!
Really the only con I can see is that I would like to see better movement in the wheels. I find it awkward in moving it as a true edger, but I may be a bit spoiled by years of using the (OF18 Edger). I have recently been given another way to use it by a friend by haven't used that yet, so it may be user error!
This is a great concrete grinder for someone wanting a simple, dependable grinder for small projects. Would likely make an excellent grinder for someone starting out and trying to stay on a budget and get a few jobs completed before moving up into a larger grinder like an Onfloor 20 Pro. The OF9S-L could remain a useful grinder for many years, and keep you off your knees while edging easily and successfully!
I would rate this a 4.7 on a scale of 5