Garage Floor Kansas City

When you think garage floor Kansas City-think Amazing Garage Floors! 
At Amazing Garages Floor Kansas City we serve clients throughout the Greater Kansas City metro.  Garage floors are our specialty, and have delivered high quality epoxy garage floors to Kansas City since 2007.  Let Kansas City's leaders in epoxy garage floors properly and professionally install your garage floor by our licensed dealers.  Beautiful, Durable, Fast-Guaranteed is what we have delivered for thousands of Kansas City clients.  Garage floors you'll enjoy for many years, that are durable, and easy to clean.  Adding protection to your concrete from damage from our harsh Kansas City winter weather and chemicals.  Why simply get a garage floor Kansas City, when you can get an Amazing Garage Floor?
Our garage floors are installed in just one day!  Our homeowners love that they may walk on the new floor in as little as 1 hour.  Return vehicles back inside in just 12 short hours.  Most of all, avoid the hassles of other epoxy floors.  Other garage floors can keep you out of your garage for a week or more!  Guaranteed to perform for 15 years-including the garage floor wear.
Garage Floor Kansas City-Leader
With 5 local and licensed installers in the Kansas City area there is no reason to get any other garage floor.  Amazing Garage Floors is Kansas City's epoxy garage floor leader.  We have the staffs and equipment to do you epoxy floor properly and quickly.  With our headquarters right in Olathe we are constantly on top of the changing industry.  Further adding value with pricing that's hard to beat, and you won't find better owner installers anywhere.  We offer the best floor and often the best prices too!  With that kind of value, it's easy to see why we install more garage floors in Kansas City than any other.  Always the best value for you when you consider a professional installation that has a real warranty.
Call 913-901-7139 for Amazing Garage Floors
For concrete driveway sealing in Kansas City visit: www.sealxp.com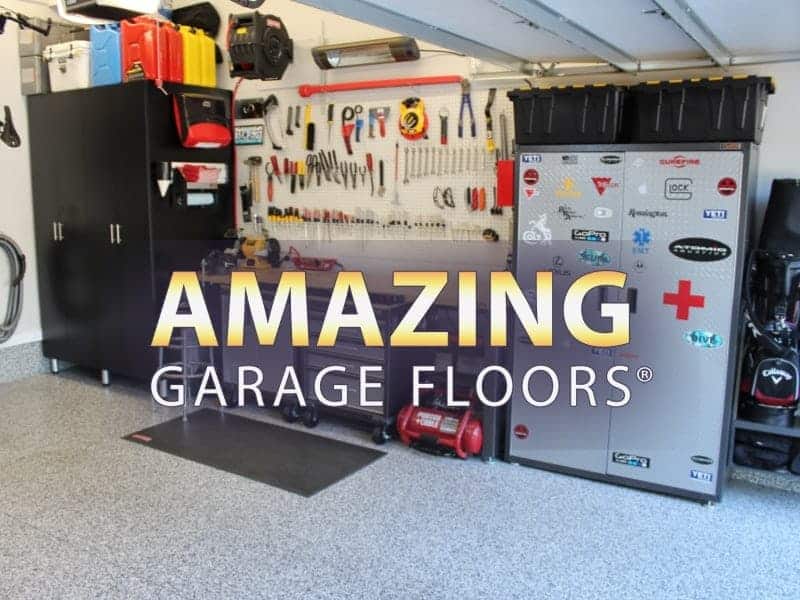 We know Kansas City area garage floors and how to protect them and enhance them to last.  We also know that there are a lot of myths and uneducated installers out and around Kansas City too.  Garage floors are a project that needs to be done correctly, and professionally for best results.  We offer free phone consultations and will  be happy to come out and address your garage floor concerns anywhere in the Kansas City metro area, to see what is best for your home and your garage floor project.  
There is often confusion with terms like full broadcast flaked, high or 100 percent solids epoxy, understanding a warranty, confusion over one day floor systems, and why some systems take so many days, and so long to return to service.  All these are key in you making the right decision for your home, budget and personal goals.  At Amazing Garage Floors Kansas City, we can help you navigate through all these terms and educate you into the best garage floor system for you.  We offer 4 epoxy floor systems too for your needs and budget. See our 4 epoxy systems HERE
Don't trust just anyone to take on your project.  Leading the way in Kansas City garage floors since 2007!  For the best epoxy Kansas City
Frequently Ask Questions (FAQ)
Feel free to contact us for any questions you may have about your garage floor and schedule an on site consultation
by Amazing Garage Floors
913-901-7139
Making your decision on an epoxy garage floor type coating should have a lot of thought put into it.  Remember that there are thousands of formulations of epoxy, all floor coatings are different, and you should not think that epoxy is epoxy.  You will find out that there are many differences in products, and even if the identical products are installed, you can certainly get different results on your floor.
Read More »
Why are full flake or full broacast flaked floors are best for garages floors?
Full flake garage floor coatings are generally the best floor for most homeowners with the key factors being. The first reason is durabilty. Multiple layers (Amazing Garage Floors-4 layers). You are also left with a slip resistant texture. With the garage being one of the hardest working rooms in your home, durabilty is also important. You will also gain a cleaner appearance in your garage and make that boring concrete floor more appealing with unlimited color options
Garage Floors with 100 percent or high solids epoxy is NOT the best for garages floors
High solids epoxy (100% solids included) is not ideal for Kansas City garage floor coatings. Most Kansas City garage floors are designed to "move" with our clay soil. Often cracks, albeit minor, form over the years due to this movement and 100% solids epoxy lacks flexibility. Additionally, its slow curing extends the length of time of installation, beyond that needed with new technologies developed in the past 20 years. Amazing Garage Floors-Kansas City does install 100% solids epoxy floors and they are of quality, just not typically in garages, but they are available.
What's the Amazing Garage Floors warranty AND Ultimate warranty?
Amazing Garage Floors-Kansas City offers our own 15 year warranty, however we will match any warranty offered by other companies word for word, and refer to this as our "ultimate warranty" When "other" warranties are reviewed we are confident that you will find the Amazing Garage Floors-Kansas City warranty superior to other offered warranties.
How do you install in just a garage floor in just one day?
Products, Processes, and trained installers are how we are able to do everything and more than other companies/installers do in 2 or 3 days. We Do NOT skip steps or cut corners on preparation, and in many cases have more steps or coats in our garage floor system than competing companies or installers.
Amazing Garage Floors-Kansas City
is A U.S. Duralast Company (U.S. Duralast, Inc)