Virginia Beach Epoxy Garage Floors
Your garage floor is probably the most abused floor in your entire house. It doesn't matter how well you take of it, your garage floor is going to experience different and more extreme wear and tear than the other floors in your home.
Because of the high demands placed on your garage floor, it's essential that you put in a floor that's going to be tough, durable, long-lasting, and attractive. At Amazing Garage Floors, we recommend epoxy coatings as the best way to improve your garage floor and prolong its life.
Choose Kansas City's REAL Epoxy Garage Floor Leader
Choose AMAZING Garage Floors!
by Amazing Garage Floors
913-901-7139
Trust Amazing Garage Floors® with your home.
Since 2007 with more than 60 trained owner operators nationally and growing.
NEW FOR 2020 
4 FLOOR OPTIONS TO SERVE KANSAS CITY BETTER
The Virginia Beach Epoxy Garage Floor specialists
Why Not Keep The Original Concrete Floor?
The garage is a high-traffic and multi-use area. You not only park your cars, trucks, bikes, lawnmowers, and all number of other heavy items in it, but you're also driving those items in and out, often many times a day. Cars and other machines aren't known for their cleanliness either. Where there are cars, there are fluids and chemicals that leak out onto the surface underneath them.  
Your garage floor has to hold thousands of pounds, which is in itself is going to take its toll. But then you add in the fact that anything in motion is going to exponentially increase the force of those heavy weights. And on top of that, you've got various fluids, chemicals, and oils leaking onto the floor.
Most garage floors are made of run-of-the-mill, poured concrete. Concrete is one of the most widely used garage flooring materials because it's relatively strong, fairly inexpensive, and straightforward to install. But concrete doesn't necessarily hold up well to long-term abuse, and typically has to be replaced at least once.
Concrete is really prone to the expansion and contraction resulting from freeze/thaw patterns. This means that over time, your concrete garage floor is going to develop cracks. These cracks are unsightly and weaken the whole floor.
Concrete is also extremely porous, so it's highly susceptible to getting permanently stained by the various fluids found in garages. Another downside resulting from concrete's porousness is that it isn't an effective moisture barrier. This basically means that your concrete garage floor can become a breeding ground for mold and odors.
The Best Epoxy Garage Floors In Virginia Beach
Are you ready to leave behind the woes of a concrete garage floor, and increase the appearance and value of your home? We thought so! Amazing Garage Floors has an impeccable reputation in Virginia Beach and the surrounding areas. We're known for our high quality epoxy garage floor systems, and our customers tell us ours are the best on the market.
Our Amazing Garage Floors epoxy floor systems are scientifically superior to all other epoxy floors. We use the best, strongest materials on the market when we install our hybrid epoxy floor systems. They're made of polyurea or polyaspartic polurea products, both of which are stronger than just epoxy. This guarantees that your new epoxy floor system will be industrial strength, which prolongs its life.
Epoxy dries quickly and cures really hard, making it a great pick as far as strength. Something interesting about epoxy is that its successful installation is very reliant on an ideal temperature. It doesn't do well in extreme cold or extreme heat, so when you're installing an epoxy floor, you have to do it at the right time of year. This is a hassle.
At Amazing Garage Floors, we put the time into researching the why's and the science behind the materials used in our hybrid epoxy floor systems.
Polyurea is basically fancy epoxy with one key difference: it dries faster and harder than epoxy and isn't sensitive to the outside temperature. Our favorite though is polyaspartic polyurea products because they have some key features that make installation easier. Like polyurea products, polyaspartic polyurea doesn't care about the temperature. But it dries more slowly and takes longer to cure than straight polyurea.
This means that your epoxy garage floor installers can take their time installing your garage floor, which means there will be fewer mistakes (or better yet, no mistakes at all!) than if they have to rush through a job.
Amazing Garage Floors Superior Solution
Like we keep saying, we're really into science at Amazing Garage Floors, and we also strive to give our customers the best possible garage floors. To achieve this, we make a proprietary garage flooring formula specifically designed for Virginia Beach garages. Our formula combines epoxy, polyurea, and polyaspartic polyurea products. The end result is a garage floor system that's easy to install, as close to indestructible as you can get, and glossy and totally customizable.
We know that our customers are really invested in home improvement, as well as value for money. When you choose an Amazing Garage Floors hybrid epoxy floor system, you're automatically increasing the value of your Virginia Beach home.
Your new hybrid epoxy floor system immediately solves the problems that come along with old concrete garage floors. The epoxy garage floor system totally gets rid of issues like cracks and unsightly stains, as well as creating a great moisture barrier. And because Virginia Beach is known for wild weather and big temperature shifts, our customers are also thrilled to experience the temperature regulation provided by our epoxy garage floors.
Professional Installers
If you want the best and most flawless epoxy garage floor system, you'll definitely want to get it professionally installed. We feel it's really important to mention this because although so many people want a redone and improved garage, they also want to save time and money. But it's an incorrect assumption to think a DIY project saves money and time.
There's nothing wrong with DIY, but all too often we'll get calls from people saying that they need our help. They'll have started on a DIY garage floor improvement project, but months later will realize that they're in over their heads, they're not happy with the end result, and yet they've spent $1,000's more than they'd originally budgeted.
Our team at Amazing Garage Floors wants to prevent that from happening. Our team of professional installers is highly trained and experienced. When you decide to go with one of our hybrid epoxy garage floors, you can just sit back and relax because our installers do everything!
The first step in our process is to repair any cracks or deformities in your existing concrete garage floor. Any stains or spilled liquid are also removed, ensuring that the concrete surface is clean. After the concrete is correctly prepped, we pour the hybrid epoxy coating onto the floor.
Home improvement projects can be so time consuming and usually make the area unusable for a long time. The beauty of our Amazing Garage Floors hybrid epoxy garage floors is that after we pour the epoxy coating and it's dried, you can use your garage that same day!
Our Amazing Garage Floors hybrid epoxy floors are extremely low-maintenance and really hard to damage. But no material is completely indestructible, so when your epoxy garage floor does sustain some damage, we come fix it ASAP.
See The Amazing Garage Floors Difference For Yourself
Here are the biggest things that we think set us apart from the competition
–
Return Of Use Of Your Garage In Just 12 Hours
–
Professional And Knowledgeable Installers
–
15-Year Warranty That Includes Wear
–
No Hot Tire Stick Or Peel
–
Non-Slick And Textured Floor
–
Diamond Grinding On All Floors Prior To Installation Of Epoxy
–
Standard Blends or Custom Color Choices Available
–
Free Garage Floor Cleaner
How long do these floors last?
When you choose an epoxy garage floor system from Amazing Garage Floors, you can feel great knowing that your floor will stay at peak performance for decades. All floors are subject to some amount of wear, even epoxy. But that said, we've never had anyone wear completely through our floors' durable clear coat in the 14 years we've been installing epoxy floors.
Why would I choose an Amazing Garage Floors epoxy floor over other floors?
It's simple. An Amazing Garage Floors epoxy garage floor beats out the competition every time. Our clear top coat is nicely textured, which keeps the floor from getting slick, as well as keeps your floor looking clean all the time (even when it's not!).
Our products do cost more than our competitors' but that's because we have the very best products and equipment. We also produce the highest volume when it comes to number of garage floors we regularly install. To top it off, our installers are the best trained and most skilled in the entire industry, so you can feel confident that you new epoxy garage floor system will be correctly installed.
We take pride in our skill and the speed with which we install your new epoxy garage floor system. Our installers will finish your job in a day, and you'll be back to using your garage right away. We know you'll be impressed with the end result! So while our sticker price is higher, you're getting so much more for your money.
[grw place_photo="https://amazinggaragefloors.net/wp-content/uploads/2019/03/10606286_587564411348391_3781563608910548609_n.png" place_name="Amazing Garage Floors-Kansas City" place_id="ChIJ-_dDjoC-wIcRxyIcIKFerZo" title="Amazing Garage Floors" pagination="5″ text_size="120″ refresh_reviews=true lazy_load_img=true reduce_avatars_size=true open_link=true nofollow_link=true]
Amazing Garage Floors Virginia Beach
See the Amazing Garage Floors Difference!
913-901-7139
1 Day Installation
Easy To Clean
Return Your Vehicles In Just 12 Hours
Knowledgable Installers
15 year Warranty-INCLUDING wear!
NO HOT Tire Stick or Peel
Diamond Grinding on ALL floors
Beautiful, Durable, Fast-Guaranteed!
Visit Our Blog For More About Amazing Garage Floors Epoxy Garage Floor System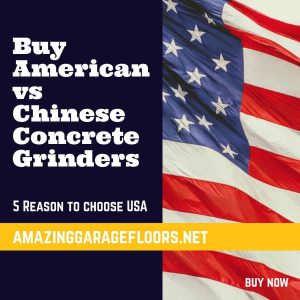 A Deep Dive into Concrete Grinder Manufacturer Support, Voltage Compatibility, and More   Reason 1: Manufacturer Support One of the major challenges you may face
Read More »
We WILL answer your epoxy garage floor questions FAQ's
How are Amazing Garage Floors prepared?
Amazing Garage Floors only diamond grinds the concrete surfaces prior to installing our floors. Sorry, but acid etch, and powerwashing are not accepted methods for preparing any concrete for an epoxy garage floor.
What color selections are offered?
There are virtually an unlimited amount of blends that you may create. We have found it's easier for most clients to choose from a limited number of "standard" color choices. Our dealers will show you their most popular colors or you can create your own blend for your taste.
What is the warranty?
Check with your local dealer, but we have at least a 15 year warranty. We believe it to be the best warranty in the industry but everyone has a different opinion. Limited Lifetime warranties may be available as well. We will match any competitors warranty, word-for-word! However, we have found most are pretty flimsy and don't really cover much. Ask you local dealer for details!
What does an epoxy garage floor cost?
Becuase an epoxy garage floor is a "process" and we are so well equipped to install our floor system, it's not a simple "per square foot" answer. Generally $2000 is a minimum for any flooring project. That being said our "per foot" prices drop dramatically on larger projects, such as 3 car garages and larger. We are happy to give you a "ballpark" price if you have approximate dimensions. Just contact us to learn more, we're happy to discuss your project anytime.
What maintenance is required?
There is no maintenance required! You will find it helpful to give your garage floor a cleaning once or twice a year most likely. There is no need for periodic re-coats, like other floors out there. Cleaning is recommended, and cleaning is easy. We also have an Amazing Garage Floors cleaner available to our clients as a courtesy to help you maintain that like new look for years to come.
How long do these floors last?
An Amazing Garage Floor will likely perform for decades. All floors do wear, even the hardwoods inside your home. We have yet to have anyone wear through our tough, durable clear coat in a garage yet, and we've been installing them since 2007.
Why would I choose Amazing Garage Floors over other floors?
While there are numerous reasons our floors outperform others. Our look and texture is second to none. Our unique topcoat leaves a nice texture, so the floors are not slick, and clean easily. This texture also allows the floor to look clean, even when its not, when compared to others. We also strive for value! We are fully aware of cost of product that others use, and our products cost more. We can overcome our costs due to huge volumes, proper equipment production, and trained installers. We often hear how much we get done in such a short period. We are happy to have you watch us perform your installation. You will see how hard and efficient our team members work to get your floor completed properly in just 1 day, so you can get back on with your busy life.
Areas Served by Amazing Garage Floors of Kansas City
Olathe  Overland Park  Leawood  Lee's Summit  Liberty  Shawnee  Cedar Creek  Lawrence  Kansas City, KS  Stanley  Bucyrus  Kansas City, MO  Riverside  Brookside  Loch Lloyd  Lenexa