Salt Lake City Epoxy Garage Floors
Are you ready for the best epoxy garage floor Salt Lake City?  Then welcome to Amazing Garage Floors!  Our epoxy garage floor system is superior to other epoxy garage floors.  Our hybrid garage floor system (which utilizes industrial epoxy, polyruea, and polyaspartic products) is designed for Salt Lake City garages  It's what you want to protect and enhance the value of your home.  Unsighlty damage and cracks that you may have will be repaired (see damaged garage floor repaired here).  Covered by a beautiful, and durable garage floor, that will last you many years, and even decades without any additional maintenance-GUARANTEED!  Let our professional installers complete your garage floor in just one day.
Epoxy garage floors are NOT created equal!  Only Amazing Garage Floors can install our beautiful, durable, floors fast, and guaranteed to perform for years to come, including wear!  We have more than a decade of installing epoxy garage floors and thousands of happy clients served.  Therefore, you can't go wrong with an Amazing Garage Floor.
by Amazing Garage Floors
913-901-7139
Trust Amazing Garage Floors® with your home.
Since 2007 with more than 60 trained owner operators nationally and growing.
NEW FOR 2020 
4 FLOOR OPTIONS TO SERVE KANSAS CITY BETTER
The Salt Lake City Epoxy Garage Floor specialists
See how the trained, professional installers at Amazing Garage Floors deliver for you. As a result, you will always get the best looking garage floor.  With Amazing Garage Floors, you will get many years of your enjoyment and performance. Most of all, we strive to provide the best value for homeowners that wish to protect, beautify, their garage-an extension of their home. Enjoy many years of easy cleaning and a garage floor that your friends and neighbors will make you the envy of the neighborhood.
Finally, contact us at Amazing Garage Floors for a free, no hassle, no pressure consultation. Let us come out and take a look at your garage. We can show you some of our many standard color selections, or you may even create your own color blend for just your style. Either way you will find us the friendly, professional, value choice for your home's garage floor.
[grw place_photo="https://amazinggaragefloors.net/wp-content/uploads/2019/03/10606286_587564411348391_3781563608910548609_n.png" place_name="Amazing Garage Floors-Kansas City" place_id="ChIJ-_dDjoC-wIcRxyIcIKFerZo" title="Amazing Garage Floors" pagination="5″ text_size="120″ refresh_reviews=true lazy_load_img=true reduce_avatars_size=true open_link=true nofollow_link=true]
Amazing Garage Floors Salt Lake City
See the Amazing Garage Floors Difference!
913-901-7139
1 Day Installation
Easy To Clean
Return Your Vehicles In Just 12 Hours
Knowledgable Installers
15 year Warranty-INCLUDING wear!
NO HOT Tire Stick or Peel
Diamond Grinding on ALL floors
Beautiful, Durable, Fast-Guaranteed!
Visit Our Blog For More About Amazing Garage Floors Epoxy Garage Floor System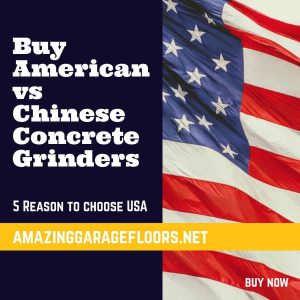 A Deep Dive into Concrete Grinder Manufacturer Support, Voltage Compatibility, and More   Reason 1: Manufacturer Support One of the major challenges you may face
Read More »
We WILL answer your epoxy garage floor questions FAQ's
How are Amazing Garage Floors prepared?
Amazing Garage Floors only diamond grinds the concrete surfaces prior to installing our floors. Sorry, but acid etch, and powerwashing are not accepted methods for preparing any concrete for an epoxy garage floor.
What color selections are offered?
There are virtually an unlimited amount of blends that you may create. We have found it's easier for most clients to choose from a limited number of "standard" color choices. Our dealers will show you their most popular colors or you can create your own blend for your taste.
What is the warranty?
Check with your local dealer, but we have at least a 15 year warranty. We believe it to be the best warranty in the industry but everyone has a different opinion. Limited Lifetime warranties may be available as well. We will match any competitors warranty, word-for-word! However, we have found most are pretty flimsy and don't really cover much. Ask you local dealer for details!
What does an epoxy garage floor cost?
Becuase an epoxy garage floor is a "process" and we are so well equipped to install our floor system, it's not a simple "per square foot" answer. Generally $2000 is a minimum for any flooring project. That being said our "per foot" prices drop dramatically on larger projects, such as 3 car garages and larger. We are happy to give you a "ballpark" price if you have approximate dimensions. Just contact us to learn more, we're happy to discuss your project anytime.
What maintenance is required?
There is no maintenance required! You will find it helpful to give your garage floor a cleaning once or twice a year most likely. There is no need for periodic re-coats, like other floors out there. Cleaning is recommended, and cleaning is easy. We also have an Amazing Garage Floors cleaner available to our clients as a courtesy to help you maintain that like new look for years to come.
How long do these floors last?
An Amazing Garage Floor will likely perform for decades. All floors do wear, even the hardwoods inside your home. We have yet to have anyone wear through our tough, durable clear coat in a garage yet, and we've been installing them since 2007.
Why would I choose Amazing Garage Floors over other floors?
While there are numerous reasons our floors outperform others. Our look and texture is second to none. Our unique topcoat leaves a nice texture, so the floors are not slick, and clean easily. This texture also allows the floor to look clean, even when its not, when compared to others. We also strive for value! We are fully aware of cost of product that others use, and our products cost more. We can overcome our costs due to huge volumes, proper equipment production, and trained installers. We often hear how much we get done in such a short period. We are happy to have you watch us perform your installation. You will see how hard and efficient our team members work to get your floor completed properly in just 1 day, so you can get back on with your busy life.
Areas Served by Amazing Garage Floors of Kansas City
Olathe  Overland Park  Leawood  Lee's Summit  Liberty  Shawnee  Cedar Creek  Lawrence  Kansas City, KS  Stanley  Bucyrus  Kansas City, MO  Riverside  Brookside  Loch Lloyd  Lenexa